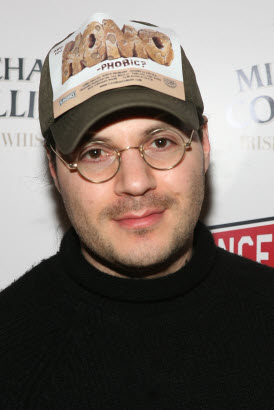 Adam Rifkin
(born December 3, 1966 in Chicago) sometimes credited as Rif Coogan, is an American film director, producer, actor and writer. Rifkin is claimed to belong to a rare breed of film directors that transited from public-access television cable TV to Hollywood.
His eclectic career ranges from broad family comedies to cult classics to dark and gritty urban dramas. Rifkin is best known in Hollywood circles for writing family-friendly comedies like MouseHunt and 2007's Underdog.
More recently Rifkin wrote, executive produced and directed all 11 episodes of Look for Showtime. Based on his award winning film of the same name, LOOK is a drama that takes the viewer into the foreboding world of hidden cameras. Armed with the knowledge that Americans are captured on surveillance cameras more than 300 times a day, the topical series, like the film, tells its story exclusively through the eyes of the security cameras, web cams, and cell phone cameras Americans live in front of everyday, bringing to light the realities of what it means to be watched in a camera consumed culture.
Education
Edit
Adam Rifkin was a 1984 graduate of The Chicago Academy for the Arts.
Rifkin's multi-faceted career spans directing, production, acting and screenwriting in the film industry.
As a screenwriter, Rifkin has a penchant for family fare. He wrote Knucklehead for WWE Studios, starring WWE superstar Big Show, Underdog for Walt Disney Animation Studios, a tent pole comedy based on the iconic 1960's cartoon show, Zoom, starring Tim Allen and two hits for DreamWorks, Mousehunt and Small Soldiers. Continuing in the family film genre, he scribed the big screen version of He-Man for John Woo and 20th Century Fox.
Rifkin gained popularity when his film The Dark Backward, which he wrote and directed, was named one of the top ten films of its year by The New York Post. He was then the director responsible for New Line Cinema's Detroit Rock City, a cult film that continues to be watched by rock fans around the world. Rifkin gained critical recognition for Night at the Golden Eagle, a film which he not only wrote and directed, but also produced.
DirectingEdit
Adam Rifkin directed his first film Never on Tuesday in 1988. As of this writing he has directed eleven others, including The Chase (1994), Detroit Rock City (1999) and the lurid yet idiosyncratic A Night at the Golden Eagle (2002). The dark drama was an official selection of the London Film Festival in 2001.
ProductionEdit
Rifkin began his relatively limited production career in 1999 on the production of Touch Me in the Morning by Giuseppe Andrews. Preceding his completion of that project, Rifkin produced his own film A Night at the Golden Eagle as well as Getting Hai by Tony Markes.
Adam Rifkin began his acting career in 1988 his directorial debut Never on Tuesday. Rifkin has appeared in small roles and cameos in his other films, A Night at the Golden Eagle, Without Charlie, Detroit Rock City, The Dark Backward, Denial and Psycho Cop 2. Rifkin also appeared as Babes Ahoy in the 1989 film, Going Overboard, starring Adam Sandler and Burt Young.
He also wrote, directed and acted in the 2007 film Horno Erectus, in which he portrays a wimpy caveman called Ishbo, the main character in the film, who everyone calls an idiot, inventing things like pants, a visor, a ladder, etc., which the tribe finds completely useless. The film's ensemble cast includes Ali Larter, David Carradine, Talia Shire, Gary Busey and Ron Jeremy.
Besides being the author of a majority of the films he directed, Rifkin has also written screenplays for a few notable Hollywood films, including Small Soldiers and MouseHunt starring Nathan Lane.
Filmography
Edit
Rifkin has acted, produced, directed, and produced a number of films over the years.
| Year | Title | Role |
| --- | --- | --- |
| 1988 | Never on Tuesday | Writer, Director, Actor |
| 1989 | Going Overboard | Co-Producer |
| 1989 | Tale of Two Sisters | Director |
| 1990 | The Invisible Maniac (a.k.a. The Invisible Sex Maniac) | Director and Screenplay & Story Writer (All as Rif Coogan) |
| 1990 | Disturbed | Actor |
| 1991 | The Dark Backward | Writer, Director, Actor (All as Rif Coogan) |
| 1991 | Bikini Island | Actor |
| 1992 | Last Dance | Actor (As Rif Coogan) |
| 1992 | The Nutt House (a.k.a. The Nutty Nut) | Director |
| 1993 | The Flesh Merchant | Actor |
| 1993 | Bikini Squad | Actor |
| 1993 | Psycho Cop 2 | Director (As Rif Coogan), Actor |
| 1994 | The Chase | Writer, Director |
| 1996 | Bone Chillers | Writer, Creator/Co-Creator, Director, Co-Executive Producer |
| 1997 | MouseHunt | Writer |
| 1998 | Denial | Writer, Actor |
| 1998 | Small Soldiers | Writer |
| 1998 | Susan's Plan (a.k.a. Dying to Get Rich) | Actor |
| 1998 | Welcome to Hollywood | Writer, Director, Actor |
| 1999 | Touch Me in the Morning | Producer |
| 1999 | Detroit Rock City | Director, Actor (Both as Rif Coogan) |
| 1999 | Miscellaneous Shit: Behind the Scenes of Detroit Rock City | Actor |
| 2001 | Without Charlie | Writer, Director, Actor |
| 2001 | Porn Star: The Legend of Ron Jeremy (a.k.a. The Legend of Ron Jeremy) | Actor |
| 2001 | Night at the Golden Eagle | Writer, Director, Actor, Producer |
| 2003 | Getting Hai | Producer |
| 2006 | Grandpa | Producer |
| 2006 | Zoom | Writer |
| 2007 | Horno Erectus (a.k.a. National Lampoon's The Stoned Age) | Writer, Director, Actor |
| 2007 | Garbanzo Gas | Producer |
| 2007 | Look | Writer, Director |
| 2007 | Underdog | Writer |
| 2007 | Blump's Squeezable Documentary | Producer, Actor |
| 2008 | Entertainment Tonight: Episode Dated 11 July 2008 | Actor |
| 2008 | Spread TV: Episode #4.2 | Actor |
| 2008 | Starz Inside: In the Gutter (TV Episode) | Actor |
| 2008 | Trailers From Hell | Actor |
| 2008 | Fairy Tail Police | Actor |
| 2009 | Starz Inside: Sex and the Cinema (TV) | Actor |
| 2010 | Advice for New Screenwriters | Actor |
| 2010 | Knucklehead | Writer |
| 2010 | Look | Writer, Director (2010), Executive Producer |
| 2011 | Chillerama | Actor, Executive Producer |