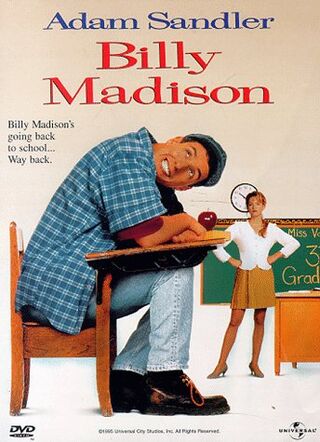 Billy Madison
is a 1995 American comedy film directed by Tamra Davis and starring Adam Sandler, in the title role, Bradley Whitford, Bridgette Wilson, Norm Macdonald and Darren McGavin. The film was written by Sandler and Tim Herlihy, and produced by Universal Studios. It made over $25.5 million worldwide. The film is about a slacker (Billy Madison) who must go back to school in order to take over his father's company. The comedy also features Chris Farley and Steve Bucemi with uncredited appearances.
Billy Madison, a 27 year old heir to a wealthy father, has spent his entire life reaping the benefits of his family's hotel chain, Madison Hotels, a Fortune 500 company. He spends his days drinking with best friends, Jack and Frank, and creating disasters across his father's estate.
One day, Billy ruins a dinner meeting between his father, Brian, and his associates by behaving obnoxiously after being instigated by Eric Gordon, Brian's executive vice president. This prompts Brian to lose any remaining faith in Billy, as he chooses the conniving Eric to become the next CEO of the company. When Billy, who despises Eric, protests that he can be responsible, Brian reveals that he secretly bribed all of Billy's school teachers in order for him to pass. Billy begs his father to reconsider his decision. The two finally come to a compromise: Billy must pass elementary, middle, and high school (grades 1-12) on his own within the course of twenty four weeks (two weeks per grade), in order to prove his competence.
Shortly after enrolling into school, Billy becomes attracted to a third grade teacher named Veronica Vaughn, who initially is disgusted with Billy and finds his enrolment to be a distraction for the other students. He eventually finds himself as one of Veronica's students and earns her respect by defending Ernie, his friend and classmate. Billy becomes popular among the third graders and begins to miss them as he advances through school.
When Billy reaches ninth grade, he finds that rather than being the cool guy that everyone looks up to, he is now considered a loser; realising how it feels to be on the receiving end of bullying, he calls up an old classmate, Danny McGrath, and apologises for the way he treated him in high school. Danny accepts his apology, and crosses his name off of a list of people to kill.
Billy's progress frustrates and alarms Eric, leading him to take the offensive while Billy struggles in high school. He visits Billy's grade school principal, Max Anderson, and threatens to reveal his past as a professional wrestler that is filled with controversial incidents, especially a particular one back in 1983, when Max accidentally caused the death of another man while performing a stunt. Coerced, Max publicly states he took bribes from Billy in return for passing him.
The announcement angers Brian who chooses to give the hotel chain to Eric. Billy becomes distraught and reverts to his original care-free lifestyle. Veronica and others come to Billy's aid, convincing him to keep fighting Eric. His grade school friends help Billy's plight by visiting Max at his home and convincing him to retract his previous statement.
With Billy's name cleared, Brian and Carl Alphonse, a loyal, long-term employee of Madison Hotels, argue to Eric that Billy deserves another chance, but Eric disagrees and threatens to file a lawsuit. Billy challenges Eric to an academic decathlon that will determine his father's successor. Although both men excel in different activities, Billy manages to take a single-point lead before the contest's final event, a Jeopardy!- style academic test. Eric chooses "reflections of society in literature" as Billy's topic. Billy uses a book that was read to him in the first grade to answer the question, but the judge calls his answer "insanely idiotic" and gives Billy no points for his answer. With scores still the same, Eric is given the chance to answer and potentially win. However, Billy chooses a question for Eric about "business ethics", of which Eric has no concept, and begins to break down. Refusing to admit defeat, he brandishes a gun at Billy. Max, clad in his wrestling outfit, subdues Eric. The attack fails to keep Eric down and laughing maniacally, he makes a final attempt to get revenge on Billy by turning his gun on Veronica. Suddenly, Danny McGrath appears with a high-powered rifle and disables Eric by firing a single shot into his buttocks. Danny and Billy share a quick wave, before he departs. At Billy's graduation, he announces that he is passing the hotel business down to Carl and will instead attend college with hopes of becoming a teacher. He and Veronica share a kiss and the film ends.
Reception
Edit
The film received mixed reviews from critics. Peter Rainer of the Los Angeles Times commented; "Sandler has a bad habit of thinking he is funnier than we do." On At the Movies, Siskel and Ebert have the film a very bad review, and Roger Ebert said of Sandler, "...Not an attractive screen presence, he might have a career as a villain of a fall guy or the butt of a joke, but as the protagonist his problem is he creates the fingernails on the blackboard." Gene Siskel added "...you don't have a good motivation for the character's behaviour." Rotten Tomatoes reports that based on the 38 reviews counted, 45% of critics gave the film a positive review. On Metacritic, the film has a rare score of 16 based on 13 reviews.
Box Office
Edit
Billy Madison debuted at No.1
Awards and Nominations
Edit
NominatedEdit
MTV Movie Award

Adam Sandler- Best Comedic Performance
Community content is available under
CC-BY-SA
unless otherwise noted.