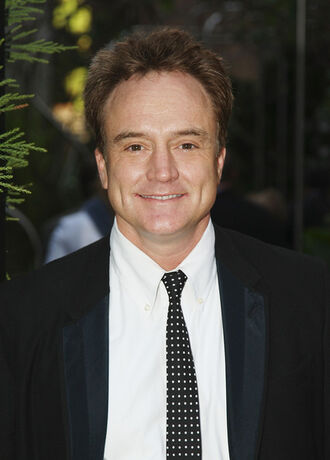 Bradley Whitford
(born October 10, 1959) is an American film and television actor. He is best known for his roles as White House Deputy Chief of Stagg John Lyman on the NBC television drama The West Wing, ad Danny Tripp on Studio 60 on the Sunset Strip, as Dan Stark in the FOX police buddy-comedy The Good Guys, as Timothy Carter, a character who was believed to be Red John in the CBS series The Mentalist, and as antagonist Eric Gordon in the film
Billy Madison
.
Whitford was nominated for three consecutive Emmy Awards from 2001-2003 for "Outstanding Supporting Actor in a Drama Series" for his role on The West Wing, winning the award in 2001. This role has also garnered him three consecutive Golden Globe Award nominations for "Best Performance by an Actor in a Supporting Role".
He is a columnist for The Huffington Post.
Early Life and Education
Edit
Whitford was born in Madison, Wisconsin and graduated from Madison East High School in 1977. He majored in English and Theatre at Wesleyan University (B.A. 1981), where his roommate was the younger brother of future castmate Richard Schiff. Whitford then attended the Juilliard School's Drama Division as a member of Group 14 (1981-1985), which also included actor Thomas Gibson.
Whitford first appeared on television in 1985 in an episode of The Equalizer. His film debut was in the 1986 film Doorman. He made his Broadway theatre debut in 1990 playing Lt. Jack Ross (followed a few months later in the lead role of Lt. Daniel Kaffee), in the Aaron Sorkin written play A Few Good Men. This was the beginning of a recurring working relationship between Whitford and Sorkin. Whitford also made a guest appearance on ER in the Emmy award-winning March 1995 episode "Love's Labor Lost".
Whitford joined the cast of Sorkin's The West Wing as Josh Lyman with the show's premiere in 1999. For his role, he won an Emmy Award in 2001 for Best Supporting Actor in a Drama Series. Whitford also wrote two episodes of the series ("Faith Based Initiative" in the sixth season and "Internal Displacement" in the seventh). After The West Wing ended in May 2006, Whitford appeared in Aaron Sorkin's later series Studio 60 on the Sunset Strip playing the role of Danny Tripp. He appeared in the British drama Burn Up on the BBC in July 2008.
He starred in Broadway in Boeing-Boeing which began in previews on April 19, 2008 and opened on May 4, 2008. He left the show in September 2008, and was succeeded in the role by Greg Germann. He co-starred in the Joss Whedon/Drew Goddard horror film The Cabin in the Woods, filmed in 2009 but not released until April 2012. In 2010, Whitford starred as Dan Stark in the cancelled FOX TV series The Good Guys opposite Colin Hanks.
In 2011, Whitford guest starred in In Plain Sight on USA Network as a man combatting paranoia. He appeared in the season three finale of The Mentalist as the long-sought nemesis of Patrick Jane, Red John. He also appeared on Law & Order: Los Angeles as a lawyer. On September 15, 2011, the American Foundation for Equal Rights, in partnership with Broadway Impact, announced the complete cast, including Whitford, and roles for the one-night only staged reading of "8," a new play chronicling the historic trial in the federal legal challenge to California's Proposition 8.
Personal Life
Edit
Whitford was married to fellow Wisconsin native, actress Jane Kaczmarek, best known for her role as Lois on Malcolm in the Middle. They lived in San Marino, California with their three children, Frances Genevieve (October 31, 1997), George Edward (December 23, 1999) and Mary Louisa (November 25, 2002). In 2007 the family appeared in magazine advertisements for the 2008 Chrysler Town and Country van. On June 19, 2009, the couple announced that they were filing for divorce after 16 years of marriage. One of the last times they were seen together publicly was in September 2008, at the opening of a Los Angeles production of The House of Blue Leaves, in which Kaczmarek was starring.
Whitford is a political liberal and has appeared several times on Real Time with Bill Maher. He once co-hosted The Majority Report on Air America Radio alongside Janeane Garofalo, and made an appearance on the Al Franken Show Party Album. On February 26, 2011, Whitford spoke at one of the many protests in Madison, Wisconsin in opposition to Governor Scott Walker's controversial budget bill.
In May 2007, Whitford was honoured by Alliance for Justice, a non-profit organisation, as the 2007 Champion of Justice. He was the keynote speaker for Class Day at Princeton University in June 2007.
Filmography
Edit
Year
Title
Role
1986
The Doorman
Terry Reilly
1987
Adventures in Babysitting
Mike Todwell
Revenge of the Nerds 2: Nerds in Paradise
Roger
1990
Vital Signs
Dr. Donald Ballentine
Presumed Innocent
Jamie Kemp
Young Guns 2
Charles Phalen
Awakenings
Dr. Tyler
1992
Scent of a Woman
Randy Slade
1993
The Silent Alarm
Referee Dad
RoboCop 3
Fleck
My Life
Paul Ivanovich
A Perfect World
Bobby Lee
Philadelphia
Jamey Collins
1994
The Client
Thomas Fink
Cobb
Process Server
1995
Billy Madison
Eric Gordon
The Desperate Trail
Tommy Donnelly
1996
My Fellow Americans
Carl Witnaur
1997
The Spittin' Image
The People
Michael Leary
Masterminds
Miles Lawrence
Red Corner
Bob Ghery
1999
Wildly Available
Professor
The Muse
Hal
Bicentennial Man
Lloyd Charney
2001
Kate & Leopold
J.J. Camden
2005
The Sisterhood of the Travelling Pants
Al
Little Manhattan
Adam
2007
An American Crime
Prosecutor Leroy K. New
2008
Bottle Shock
Professor Saunders
2012
Cabin in the Woods
Steve Hadley
TelevisionEdit
Year
Title
Role
1985
The Equalizer
Dillart
1986
C.A.T. Squad
Leon Trepper
1987
The Betty Ford Story
Jack Ford
1988
Tales from the Darkside
Tom Dash
1993
Black Tie Affair
Dave Brodsky
1994
Web of Deception
Larry Lake
NYPD Blue
Norman Gardner
Ellen
Doug
The X-Files
Daniel Trepkos
1995
Nothing But the Truth
"Mack" McCarthy
ER
Sean O'Brien
1996
Touched by an Angel
Steven Thomas Bell
1997
In the Line of Duty: Blaze of Glory
Tom LaSalle
Tracey Takes On...
Nik
Cloned
Rick Weston
1998
The Sky's on Fire
John Morgan
The Secret Lives of Men
Phil
1999
Behind the Mask
Brian Shushan
Felicity
Tom Anderson
1999-2006
The West Wing
Josh Lyman
2002
Malcolm in the Middle
Meg's Husband
Frasier
Stu
2005
Fathers and Sons
Anthony
2006-2007
Studio 60 on the Sunset Strip
Danny Tripp
2008
Burn Up
Mack
2009
Off Duty
Detective Glenn Falcon
Monk
Dean Berry
2010
The Sarah Silverman Program
Toby Grossnickel
The Good Guys
Dan Stark
2011
In Plain Sight
Adam Wilson
The Mentalist
Timothy Carter
2012
Parks and Recreation
Councilman Pillner
Community content is available under
CC-BY-SA
unless otherwise noted.