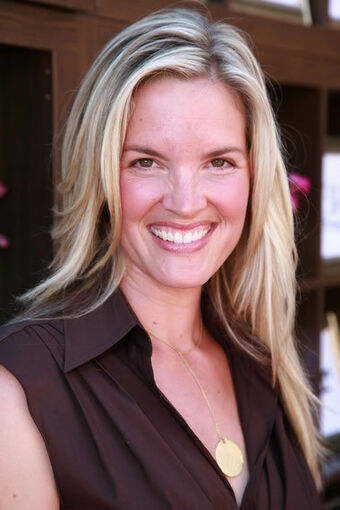 Bridgette Leann Wilson-Sampras
(born September 25, 1973) is an American actress, singer and model. A Miss Teen USA in 1990, Wilson holds several acting roles in television and movies, including the role of Veronica Vaughn in the movie
Billy Madison
, the role of Elsa Shivers in the movie I Know What You Did Last Summer, and the role of Sonya Blade in the movie Mortal Kombat.
Early Life
Edit
Wilson was born in Gold Beach, Oregon, the daughter of Kathy and Dale Wilson. Her sister Tracey Wilson, is also an actress (as a child, Tracey made her debut in the movie Resurrection, which co-starred Ellen Burstyn). Bridgette was crowned Miss Teen USA in 1990 in Biloxi, Mississippi; she is the second contender from Oregon to win the crown.
After her reign as Miss Teen USA, Wilson became an actress and appeared in Santa Barbara, Saved By The Bell, The Last Action Hero, Billy Madison (playing Adam Sandler's teacher/girlfriend), Higher Learning, Mortal Kombat, Nixon, I Know What You Did Last Summer, House on Haunted Hill, Buying the Cow, The Suburbans, Love Stinks, Nevada, Sweet Evil (as a psychopathic surrogate mother), Extreme Ops and The Wedding Planner. Wilson also appeared on an episode of CSI Miami as a woman whose husband is killed by a package delivered to their house.
Wilson did not reprise her role as Sonya Blade in Mortal Kombat: Annihilation, the sequel to the first Mortal Kombat film; the part was played by Swiss actress Sandra Hess.
Wilson has starred in The Rocky Horror Show (off-Broadway). She was a judge on the 2006 Miss Universe competition. Wilson is also a singer, and was featured on Tommy Shane Steiner's debut album Then Came the Night, singing backup vocals on the song "What We're Gonna Do About It". This song reached #43 on the Billboard Hot Country Songs charts in 2002.
Personal Life
Edit
She married tennis player Pete Sampras on September 30, 2000. They have two sons, Christian Charles Sampras (November 21, 2002) and Ryan Nikolaos Sampras (July 29, 2005).
Filmography
Edit
Saved by the Bell (1989) TV- Ginger (1992) 5 episodes
Santa Barbara (1993) TV- Lisa Fenimore #2 (1992-1993)
Last Action Hero (1993)- Whitney/Meredith
Higher Learning (1995)- Nicole
Billy Madison (1995)- Veronica Vaughn
Mortal Kombat (1995)- Sonya Blade
Nixon (1995)- Sandy
Final Vendetta (1996)- Jennifer Clark
Unhook the Stars (1996)- Jeannie Hawks
Marina (1997)
Nevada (1997)- June
The Stepsister (1997) TV- Melinda Harrison
The Real Blonde (1997)- Sahara
I Know What You Did Last Summer (1997)- Elsa Shivers
Sweet Evil (1997)
Host (1998) TV- Julit Spring
Starstruck (1998)- Sandra
The Suburbans (1999)- Lara
Love Stinks (1999)- Chelsea Turner
House on Haunted Hill (1999)- Melissa Margaret Marr
Beautiful (2000)- Lorna Larkin, Miss Texas
The $treet (2000) TV- Bridget Deshiel
The Wedding Planner (2001)- Francine Donolly
Just Visiting (2001)- Amber
Buying the Cow (2002)- Sarah
Extreme Ops (2002)- Chloe
Frasier (1 episode, 2002)- Kris
CSI: Miami (1 episode, 2003)- Gabriela Betancourt
Shopgirl (2005)- Lisa Cramer
Carpoolers (2008)- Dorrit
Phantom Punch (2009)- Farah
Discography
Edit
Title
Details
I Only Wanna Be with You

Release Date: 1994
Label: King Records

Gimme a Kiss

Release Date: 1996
Label: King Records
Guest SinglesEdit
| Year | Single | Artist |
| --- | --- | --- |
| 2002 | "What We're Gonna Do About It" | Tommy Shane Steiner |