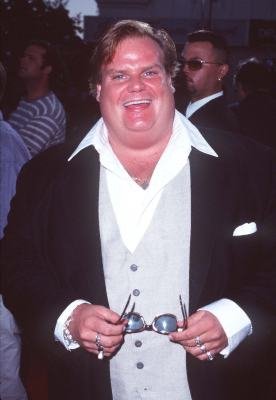 Christopher Crosby "Chris" Farley
(February 15, 1964- December 18, 1997) was an American comedian and actor. Farley was a member of Chicago's Second City Theatre and cast member of the NBC sketch comedy show Saturday Night Live between 1990 and 1995. Farley and Chris Rock were introduced as two of the show's new cast members in early 1990. Similar to his idol, John Belushi, Farley died of a speedball overdose at the age of 33. On August 26, 2005, Farley was posthumously awarded the 2,289th star on the Hollywood Walk of Fame, which is located in front of iO West.
Early Life
Edit
Farley was born in Madison, Wisconsin, the son of Mary Anne, a housewife, and Thomas "Tom" Farley, Sr., who owned an oil company. He had four siblings: Tom Jr., Kevin, John and Barbara. His cousin, Jim, is a vice president at Ford Motor Company. Farley's family is Irish American, and Farley and his siblings attended Catholic schools in his hometown, including Edgewood High School of the Sacred Heart. According to Joel Murray, a fellow Second City cast member, Chris would "always make it to Mass". Many of his summers were spent as a camper and counsellor at Red Arrow Camp, near Minocqua, Wisconsin.
Farley graduated from Marquette University in 1986, with a concentration in communications and theatre. After college, he worked with his father at the Scotch Oil Company in Madison. He got his start in professional comedy at the Ark Improv Theatre in Madison, and at the Improv Olympic theatre in Chicago. He then performed at Chicago's Second City Theatre, initially as part of Second City's touring group. He was eventually promoted to their main stage. While working at Second City, Farley befriended his Saturday Night Live colleague Lorne Michaels.
Saturday Night LiveEdit
Along with Chris Rock, Farley was one of two new Saturday Night Live cast members announced in the spring of 1990. On SNL, Farley frequently collaborated with his fellow cast members Adam Sandler, Chris rock, Rob Schneider and David Spade, among others. This group came to be known as the "Bad Boys of SNL". Popular characters performed by Farley included himself on The Chris Farley Show, a talk show in which Farley quite often "interviewed" the guest, got very nervous and asked simple-minded or irrelevant questions, such as what their favourite rock band was; Matt Foley, an over-the-top motivational speaker who constantly reminded other characters that he "lived in a van, down by the river", Todd O'Connor of Bill Swerski's Superfans, a group of stereotypical Chicagoans who constantly shouted "da Bears!", a Chippendale's dancer, in a famous sketch that paired him with guest host Patrick Swayze; one of the "Gap Girls", who hung out together at a local mall; a stereotypical lunch lady, to the theme of Lunchlady Land performed by Adam Sandler; and Bennett Brauer, a Weekend Update commentator who often divulged his personal and hygienic problems via air quotes. Some of these characters were brought to SNL from his days at Second City. Farley also performed impersonations of Tom Arnold, who have Farley's eulogy at his private funeral; Andrew Giuliani, Jerry Garcia, Meat Loaf, Norman Schwarzkopf, Dom DeLuise, Roger Ebert, Carnie Wilson, Newt Gingrich, Mindy Cohn, Mama Cass, Hank Williams, Jr., and Rush Limbaugh were among the celebrities and real-life figures he portrayed.
Off screen, Farley was well known for his pranks in the offices of Saturday Night Live. This would refer to Sandler and Farley making late night prank phone calls from the SNL offices in Rockefeller Center, with Sandler speaking in an old woman's voice and Farley farting into the phone and mooning cars from a limousine. Sandler told Conan O'Brien on The Tonight Show that NBC fired him and Farley from the show in 1995.
Film CareerEdit
During his tenure on SNL, Farley had roles in the comedy films Wayne's World, Coneheads, Airheads, and uncredited in Billy Madison. He also appeared in the Red Hot Chilli Peppers music video for "Soul to Squeeze" which was a song features on the Coneheads soundtrack.
After Farley and most of his fellow cast members were released from their contracts at Saturday Night Live following the 1994-1995 season, Farley began focusing on his film career. His first two major films co-starred his fellow SNL colleague and close friend David Spade. Together, the due made the films Tommy Boy and Black Sheep. These were a success at the domestic box office, earning around $32 million each and gaining a large cult following on home video. They established Farley as a relatively bankable star and he was given the title role of Beverly Hills Ninja, which finished in first place at the box office on its opening weekend. However, drug and alcohol problems interfered throughout Farley's film work, and production of his final film, Almost Heroes, was held up several times so Farley could attend rehab. After his premature death on December 18, 1997, his final completed films, Almost Heroes and Dirty Work, were released posthumously.
Unfinished ProjectsEdit
Farley was the original choice to record vocals for the title character of the DreamWorks animated film Shrek, but died before recording began and he was replaced by one of his SNL co-stars, Mike Myers. He was also planning a Matt Foley film with his colleague David Spade. By the time of his death, Farley had also been in talks to co-star with Vince Vaughn in the film The Gelfin and also to star in a biopic film about Fatty Arbuckle. Grown Ups would have reunited Farley with SNL co-stars David Spade, Adam Sandler, Chris Rock and Rob Schneider, but due to his death the film was shelved for over a decade and was recast with Kevin James. He had also been in talks for the lead in an adaptation of the novel A Confederacy of Dunces.
Illness and Death
Edit
By early 1997, a visible decline in Farley's health was frequently noted in the press. Following his final guest appearance on SNL on October 25, 1997, Farley's hoarse voice, continual perspiration and flushed skin were the subject of public scrutiny. In the final years of his life, Farley had sought treatment for obesity and drug abuse on seventeen separate occasions. On December 18, 1997, Farley was found dead by his younger brother, John in his apartment in the John Hancock Center in Chicago. An autopsy later revealed that Farley had died of a drug overdose early that morning. Advances atherosclerosis was cited as a "significant contributing factor". Farley's death is often compared to his SNL idol John Belushi, who also died at age 33 of an accidental drug overdose consisting of cocaine and heroin.
Farley's private funeral was held at Our Lady Queen of Peace Catholic Church in his hometown of Madison, Wisconsin five days later. Over five hundred people attended his funeral, many of the actors and comedians who had worked with him on Saturday Night Live and on film including Phil Hartman (who died five months later), Adam Sandler, Brendan Fraser, Joe Mantegna, Lorne Michaels, Dan Aykroyd, Steve Buscemi, Mike Myers, Christopher Walken, John Goodman, Eugene Levy, George Wendt, Norm Macdonald, Holly Wortell, Rob Schneider, Chris Rock, Tim Meadows and Tom Arnold. Notably absent was Farley's former SNL castmate, frequent film co-star, and close friend David Spade, who was later quoted as saying that he declined to attend Farley's funeral because he "could not be in a room where Chris was in a box." However, Spade did appear on the special 25th anniversary episode of Saturday Night Live, holding back his tears, to call for a moment of remembrance for Farley. Farley was entombed at the Resurrection Catholic Cemetery.
On August 26, 2005, Farley was posthumously awarded the 2,289th star on the Hollywood Walk of Fame, which is located in front iO West. In his memoir Gasping for Airtime, Jay Mohr recalled a moment involving Farley and his SNL colleague Phil Hartman. In the show's cast's goodbye song and dance performance to Hartman, the final scene featured Farley and Hartman embracing each other as the latter sang "Goodbye" to the camera. This was seen on the "Best of Chris Farley" SNL special, but omitted from video versions of the special. The authorised biography of Farley, The Chris Farley Show, was written by his brother Tom, Jr. and Tanner Colby.
Filmography
Edit
Year
Title
Role
1992
Wayne's World
Security Guard
1993
Coneheads
Ronnie the Mechanic
Wayne's World 2
Milton
1994
Airheads
Officer Wilson
1995
Billy Madison
Bus Driver
Tommy Boy
Thomas "Tommy" Callahan, Jr.
1996
Black Sheep
Mike Donnelly
1997
Beverly Hills Ninja
Haru
1998
Almost Heroes
Bartholomew Hunt
Dirty Work
Jimmy
TelevisionEdit
| Year | Title | Role |
| --- | --- | --- |
| 1990-1995 | Saturday Night Live | Various Characters |
| 1992 | The Jackie Thomas Show | Chris Thomas |
| 1993 | Roseanne | Man in Clothing Store |
| 1994 | Tom | Chris |
| 1997 | All That | Chef Farley |
Community content is available under
CC-BY-SA
unless otherwise noted.