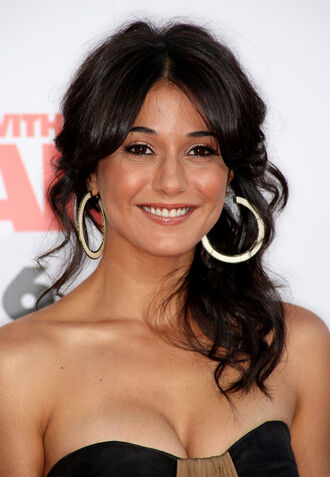 Emmanuelle Sophie Anne Chriqui
(born December 10, 1977) is a Canadian film and television actress. She is perhaps best known for her role on HBO's Entourage as Sloan McQuewick, as well as the lost interest of
Adam Sandler
in the movie
You Don't Mess with the Zohan
. In May 2010, she topped the AskMen.com Most Desirable Women of 2010 list.
Early Life
Edit
Chriqui was born in Montreat, Quebec, the daughter of Moroccan Jewish immigrants. Her mother was born in Casablanca and her father in Rabat, and Chriqui has relatives in Israel. Her family practiced Orthodox Judaism in the Sephardic tradition.
Chriqui has an older brother, Serge, and an older sister, Laurence. When she was almost two, her family moved to Toronto, Ontario. She grew up in Markham-Unionville, a suburb north east of the city. Her mother, who once told her she would become an actress, died when Chriqui was very young.
As a child, she took acting classes, for which her older brother paid. Chriqui attended the drama program at Unionville High School. After high school, Chriqui decided to pursue a career in acting.
Chriqui began acting as a 10 year old in a McDonald's commercial. She moved to Vancouver in the mid-1990s, guest-starring in series such as Are You Afraid of the Dark?, Forever Knight, Once a Thief, and Psi Factor: Chronicles of the Paranormal. Her first Hollywood role was as a supporting character in Detroit Rock City (1999). Chriqui later appeared in several movies such as 100 Girls, Wrong Turn, On the Line, and In the Mix. She starred opposite Cameron Douglas in the movie National Lampoon's Adam & Eve and played the character of Eve, and played star Adam Sandler's love interest in You Don't Mess with the Zohan.
Chriqui was nominated for a Best Actress DVD Exclusive Award for her performance in 100 Girls and was nominated, with Lance Bass, for a Choice Liplock Teen Choice Award in On the Line. Recently, she won the Standout Performance Trophy at the Young Hollywood Awards.
Chriqui also starred in Hinder's "Lips of an Angel" music video as well as in the Zac Brown Band's "Whatever It Is" music video. She threw out the ceremonial first pitch at a Los Angeles Dodgers game on June 8, 2008. Chriqui was on the cover of the Autumn 2008 issue of Naked Eye.
She acted in the film Cadillac Records (2008) as Revetta Chess, where she performed with Beyonce Knowles. Chriqui was seen in 2009 as one of several women whose lives interconnect in the comedy Women in Trouble and will appear in its sequel, Elektra Luxx, its release in 2010.
In 2010 Chriqui joined Showtime's 2011 series, The Borgias. She has also been confirmed as the voice of Cheetara in the ThunderCats 2011 animated series.
Filmography
Edit
Year
Title
Role
1995
Harrison Bergeron
Jeannie
Forever Knight
Jude Deshnell
The Donor
Patty
1996
Are You Afraid of the Dark?
Amanda
A Champion's Fight
Cindy
1998
Alien Abduction: Incident in Lake County
Renee Laurent
1998
Principal Takes A Holiday
Roxane
1999
Detroit Rock City
Barbara
2000
Snow Day
Claire Bonner
Ricky 6
Lee
100 Girls
Patty
2001
On the Line
Abbey
2003
Wrong Turn
Carly
Rick
Duke's Long-Suffering Wife
2005
The O.C.
Jodie
Candy Paint
Angela Martinez
Unscripted
Emmanuelle
Waiting...
Tyla
The Crow: Wicked Prayer
Lilly
Entourage
Sloan McQuewick
National Lampoon's Adam & Eve
Eve
In the Mix
Dolly
2006
Waltzing Anna
Nurse Jill
Deceit
Emily
2007
After Sex
Jordy
2008
August
Morela Sterling
You Don't Mess with the Zohan
Dahlia
Tortured
Becky
Cadillac Records
Revetta Chess
2009
Women in Trouble
Bambi
Taking Chances
Lucy
Saint John of Las Vegas

Tasty D Lite

2010
13
Aileen
Elektra Luxx
Bambi
Call of Duty: Black Ops
Numbers
2011
Science Ninja Team Gatchaman
2011
Girl Walks Into a Ball
Teresa
5 Days of War
Tatia
The Borgias
Sancia
ThunderCats
Cheetera
Kick Buttowski: Suburban Daredevil
Kelly
2012
Tron: Uprising
Paige
The Metalist
Lorelei Martins