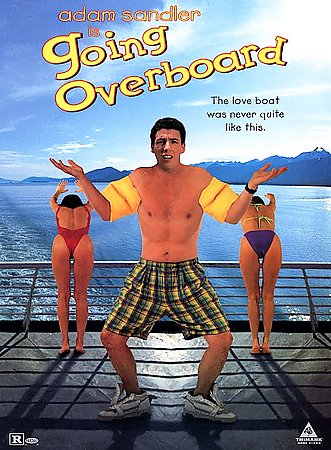 Going Overboard is a 1989 American comedy film released on May 11, 1989. It was Adam Sandler's first starring role. It features Burt Young, Allen Covert, Billy Zane, Terry Moore, Milton Berle, and a small role by Billy Bob Thornton. The movie frequently ranks very "high" on the top 100 worst rated movies IMDb Bottom 100. As of December 2011, it is at #42 on this list, and has been moving closer to the top spot.
The production was shot entirely on a cruise ship going from New Orleans to Cancun. The ship was going to the Miss Universe Pageant and was filled with beauty queens from all over the United States. The camera crew forgot to bring a box of lenses on the ship, so the director of photography was forced to shoot with the wrong lenses.
The film was originally released in 1989. However, once Sandler became successful after appearing on Saturday Night Live and in the film Billy Madison, it was given a wider release by Vidmark Entertainment in 1996.
Shecky Moskowitz (Sandler) is a struggling young comedian who lands a menial job on a cruise ship as the Miss Universe contest is being held onboard. The Big Man On Deck for this voyage is Dickie Diamond (Scott LaRose), the ship's comedian and all-around ladies' man. As an assorted array of thugs, Panamanian mercenaries and terrorists try to storm the ship, Shecky hopes for one big chance to prove himself and enter the exciting world of cruise ship comedy.
Community content is available under
CC-BY-SA
unless otherwise noted.