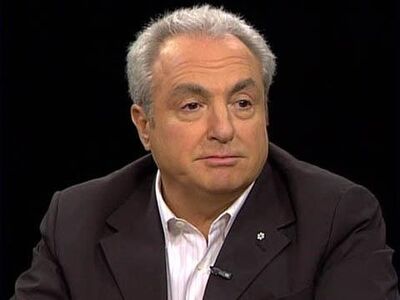 James "Jim" Downey
(born 1952) is an American comedy writer and occasional actor. Downey is best known as a long-time writer for Saturday Night Live.
Downey attended Harvard University, graduating in 1974 with a degree in Russian. While at Harvard, he wrote for the Harvard Lampoon, at a time when (as Steve O'Donnell said in 1987) "the proliferation of cable and the proliferation of comedy led the sensibilities of the Lampoon to become a little closer to the sensibilities of the mass media." Downey, a member of that first generation of Lampoon writers to make a career in television, has been credited with playing a role in that shift. In 1976, 100 Years of Harvard Lampoon Parodies was published in magazine format, edited by Downey and Eric Rayman. In 1976, Downey became a writer for Saturday Night Live. He worked on 27 of the show's first 32 seasons, one of the longest tenures in the show's history. He arrived at Saturday Night Live the same week as Bill Murray with whom he ended up sharing an office overlooking 50th Street, but he mostly began writing at SNL with Al Franken, Tom Davis and Dan Aykroyd. His first sketch as writer for the show ran from 1976 to 1980, culminating in a brief stint as a featured cast member. By the 1979-1980 season, Lorne Michaels had lost both Dan Aykroyd and John Belushi to feature film careers, causing him to look to writers like Downey, Tom Schiller, Dan Aykroyd's brother Peter, Al Franken, Alan Zweibel and Tom Davis to fill spots as cast members (along with SNL bandleader Paul Shaffer and newcomer Harry Sheater). When Michaels left the show in 1980, so did Downey, along with practically everyone else.
After leaving SNL, Downey went on to become head writer of Late Night with David Letterman for a little over a year during its formative stages. He returned to SNL in 1984, serving for a while as head writer. When Norm Macdonald began as Weekend Update anchor in the mid-1990s, Downey wrote exclusively for that segment of the show. Downey and Macdonald subsequently became a team, working away from the rest of the cast and crew. When Macdonald was fired from the show in 1998, Downey went with him, only to return to the show in 2000. He continues to write for the show, pausing only in 2005 to work on a novel. Former SNL Weekend Update anchor Dennis Miller has frequently called him the second most important person in the history of Saturday Night Live behind only creator Lorne Michaels.
Political ViewsEdit
In 2008 Downey received attention for his political sketches on SNL. In early 2008, his sketches mocked the Democratic Presidential Debates. The sketched depicted the news media as biased toward candidate Barack Obama. After the first sketch aired, candidate Hillary Clinton referred to it at the beginning of the next debate.
A profile of Downey appeared in the New York Times. In the Huffington Post, former SNL head writer Adam McKay called Downey "right wing" and an "Ann Coulter pal", and suggested that the sketches were a ploy to favour Republicans, since Clinton would be a weaker candidate than Obama. According to the Times article, Downey said "he probably favoured Mr. Obama over Mrs. Clinton, but that he genuinely felt she was receiving tougher treatment from the news media". He denied that SNL had intended to help Clinton. The SNL sketches may have prompted tougher news coverage of Obama, according to work by the Project for Excellence in Journalism. Downey's political affiliation had been mentioned before in the news. TV critic Tom Shales, author of a book on SNL (Live from New York: The Uncensored History of Saturday Night Live), said on CNN in 2002: "Jim Downey, who was kind of running the political humour in 2000 at SNL, is himself a Republican. You know, we just assume that people in the arts are all liberal Democrats despite the occasional Charlton Heston or whatever. But not the case. Downey is pretty conservative."
Shales agreed with host Al Hunt's opinion that SNL is an "equal opportunity slasher" in political comedy.
Additional information about Downey's political affiliation is provided in a New York Times article dated March 13, 2008 titled "Pro-Clinton? 'SNL' Says You're Joking". The article states "Mr. Downey said he was a registered Democrat." The article also stated that Downey indicated a preference for candidate Obama, "Mr. Downey said that he would definitely vote for him if he were nominated."
Although he was only a credited actor on Saturday Night Live for one season, Jim Downey has appeared in over 40 sketches from 1977 to 2005, his most notable being parody commercials such as Craig's Travellers Checks, First Citiwide Change Bank, and Grayson Moorhead Securities. He is probably best remembered for playing the principal/judge of the "decathlon" in Billy Madison. In 2007, he appeared in a Digital Short titled Andy's Dad, where he portrayed the father of cast member Andy Samberg, and had a romantic relationship with guest star Jonah Hill. He also appeared in the Norm McDonald movie, Dirty Work as one of the homeless guys.
Personal Life
Edit
Downey's older brother is Robert Downey Sr., father of actor and former SNL cast member Robert Downey Jr.. He also has one son.
Community content is available under
CC-BY-SA
unless otherwise noted.