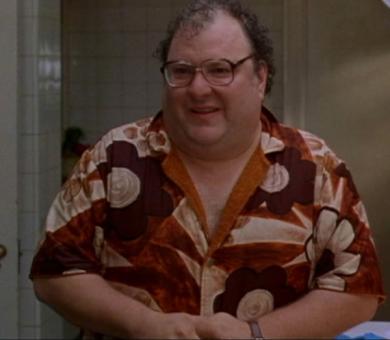 Joshua "Josh" Mostel
(born December 21, 1946) is an American actor who is best known for his roles in Jesus Crist Superstar and two
Adam Sandler
films,
Billy Madison
as
Big Daddy
.
Life and Career
Edit
Mostel was born in New York City, New York, the son of Kathryn Celia, an actress, dancer, and writer, and comic actor Zero Mostel. His brother Tobias is a painter, ceramic artist and professor of art, teaching in Florida.
Mostel started his career as a boy soprano at the Metropolitan Opera in New York. He graduated from Brandeis University. When a student at Brandeis, he once pushed a couch into a pond and set it afire, taking bets as to whether the couch would burn or drown first. His broadway debut was in 1971 with Unlikely Heroes. In 1979, Mostel briefly starred in the television version of the film Animal House, Delta House, as "Blotto" Blutarsky, the brother of the character Bluto (played by John Belushi in the original film). He has since appeared in many films and Broadway productions.
Mostel now lives in New York, with a summer home on Monhegan, Maine.
Filmography
Edit
Year
Title
Role
1971
Going Home
Mr. Bonelli
1972
The King of Marvin Gardens
Frank
1973
Jesus Christ Superstar
Herod Antipas
1974
Harry and Tonto
Norman Coombes
1976
The Money
Wheel of Fortune Operator
Deadly Hero
Victor
1981
Dead Ringer
Russell
1982
Fighting Back
Duster
1982
Sophie's Choice
Morris Fink
1983
Star 80
Private Detective
1984
The Brother from Another Planet
Casio Vendor
Windy City
Sol
1985
Almost You
David
Compromising Positions
Dicky Dunck
Stoogemania
Howard F. Howard
1986
The Money Pit
Jack Schnittman
1987
Radio Days
Abe
Matewan
Mayor Cabell Testerman
Wall Street
Ollie
1989
Animal Behaviour
Mel Gorsky
1991
City Slickers
Barry Shalowitz
Naked Tango
Bertoni the Jeweller
Little Man Tate
Physics Professor
City of Hope
Mad Anthony
1992
Nervous Tricks
Saul Warshow
1993
Searching for Bobby Fischer
Chess Club Regular
1994
The Chase
Officer Figus
Auf Wiedersehen Amerika
Abe
City Slickers 2: The Legend of Curly's Gold
Barry Shalowitz
1995
The Maddening
Chicky Ross
Billy Madison
Principal Max Anderson
The Basketball Diaries
Counterman
Let It Be Me
Jordan
1998
Great Expectations
Jerry Ragno
Rounders
Zagosh
1999
The Out-of-Towners
Dr. Faber
Big Daddy
Arthur Brooks
2001
Knockaround Guys
Mac McCreadle
2008
State of Play
Pete
Broadway ProductionsEdit
| Title | Dates of Productions |
| --- | --- |
| Unlikely Heroes | October 26, 1971- November 13, 1971 |
| An American Millionaire | April 20, 1974- May 5, 1974 |
| A Texas Trilogy: Lu Ann Hampton Laverty Oberlander | September 21, 1976- October 30, 1976 |
| A Texas Trilogy: The Last Meeting of the Knights of the White Magnolia | September 22, 1976- October 31, 1976 |
| Threepenny Opera | November 5, 1989- December 31, 1989 |
| My Favourite Year | December 10, 1992- January 10, 1993 |
| The Flowering Peach | March 20, 1994- April 24, 1994 |
| Getting Away with Murder | March 17, 1996- March 31, 1996 |