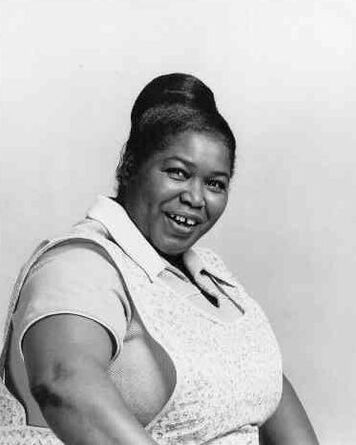 Theresa Merritt Hines
(September 24, 1922- June 12, 1998) was an American stage, film and direction actress and singer.
Born in Emporia, Virginia, Merritt appeared in many theatrical productions but gained fame later in life when she starred in Ma Rainey's Black Bottom (Tony Award nomination) and The Wiz (she replaced Mabel King as Evelline, and although the demanding role was a highly visible one for her she left it, citing its deleterious effect on her voice) and the television series That's My Mama.
Her most notable film roles were Aunt Em in the 1978 film version of The Wiz, Mrs. Crosby in the 1977 film adaptation of Neil Simon's The Goodbye Girl and Juanita in the Adam Sandler comedy Billy Madison. She also appeared alongside Burt Reynolds and Dolly Parton in the film adaptation of The Best Little Whorehouse in Texas.
Personal Life and Death
Edit
Merritt was married to Benjamin Hines; they had four children. Merritt died of skin cancer on June 12, 1998 in The Bronx.
Filmography
Edit
Year
Title
Role
1971
They Might Be Giants
Peggy
1977
Proof of the Man
Peggy
The Goodbye Girl
Mrs. Crosby
1978
The Wiz
Aunt Emma
1979
The Great Santini
Arrabella Smalls
All That Jazz
Cast of NY/LA
1982
The Best Little Whorehouse in Texas
Jewel
1988
Astonished
Ida
The Serpent and the Rainbow
Simone
1989
Zwei Frauen
Nurse Wilson
1991
Voodoo Dawn
Madame Daslay
1995
Billy Madison
Juanita
1998
Dangerous Proposition
Grace
Home Fries
Mrs. Vaughan
TelevisionEdit
Year
Title
Role
1969
J.T.
Mama Meley
1973
The Furst Family of Washington
Eloise "Mama" Furst
1974-1975
That's My Mama
Eloise "Mama" Curtis
1975
Police Story
Mrs. Johnson
1980
NBC Special Treat
1983
The Love Boat
Faye Pillips
1984
Concealed Enemies
Clytie Catlett
1988
Miracle at Beekman's Place
Sarag Coleman
1997
Law & Order
Ruth Titus
1998
NYPD Blue
Bernice
Cosby
Edna Stone